Wild garlic butter - totally homemade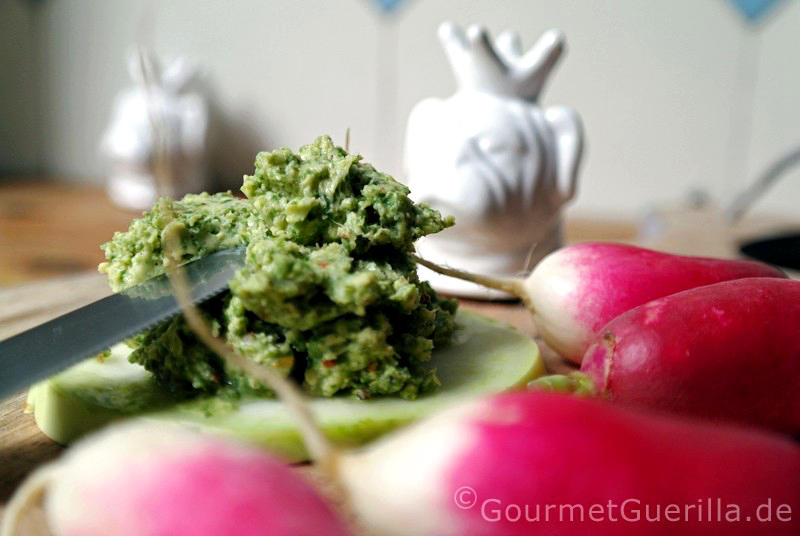 I really love my blender. "What would you save if your house burns?" ... THE PURIER STAB! Well, it has not come so bad with me. Since the purchase price is limited, I would rather bring together a few garments and personal memories in a house fire. But at least he was allowed to come with him on his last vacation. Without a blender, nothing works in the Frollein-FeWo-Küche.
Yesterday, however, there was a short break in our otherwise constructive relationship. I actually wanted to make a uniform cream of cream, cream cheese, wild garlic and a few spices. A short press of the button - rrrrrrrrrrrrrrrrrrrrrrrrrrrr - and there was a fairly solid green lump in my mixing bowl.
Pouting, I had to turn to a glass of rosé before I was ready to take a closer look. Terrible! In the meantime, a lot of green liquid had accumulated under the lump.
Determined to save the matter, I grabbed the hair sieve and smoothed the mass. Bravely, the green liquid seeped into the bowl under the sieve. In the sieve itself remained a homogeneous, spreadable mass back. Reluctantly, I tried a tiny chip.
And then, so to speak, I went to the chandelier: I had made BUTTER - delicious, homogeneous, garlic-flavored wild garlic butter. Relationship crisis exposed.
The advantage of wild garlic butter: Full Knofigeschmack with no odor after odor. Tastes great on potatoes, vegetables, meatballs, fish, grilled meats and sandwiches.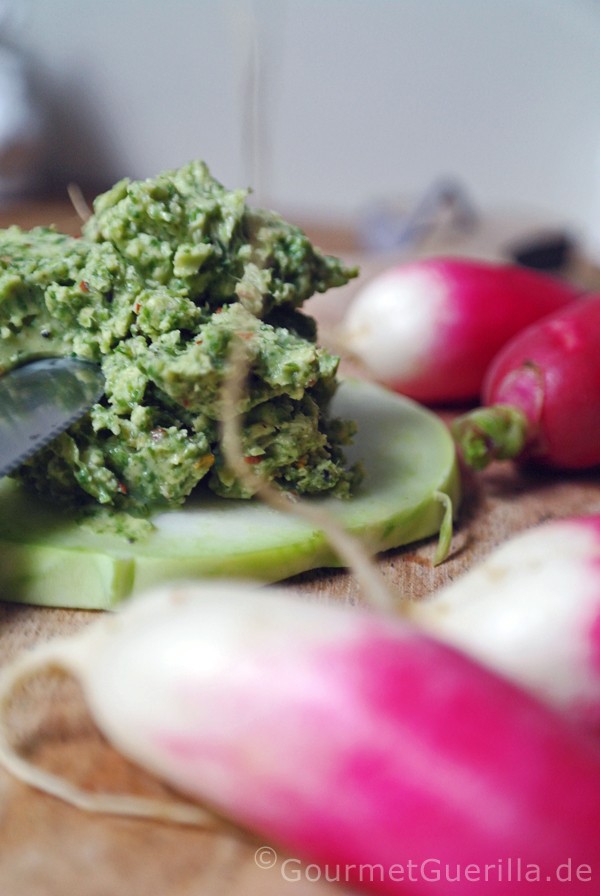 Here's the recipe for 1 bowl of the finest wild garlic butter:
1 mug of whipped cream with 2 Fresh cream cheese , 2 tablespoons olive oil , salt , pepper , 1 pinch of chili flakes , Put 1 pinch of sugar and 1 bunch of wild garlic (roughly chopped) in a high mixing bowl.
Mix everything with the blender until the mixture becomes firm. Place the contents of the mixing bowl in a strainer and brush through with a spoon or spatula. The liquid separates and the butter remains in the sieve.
Place in a bowl and refrigerate. Lasts a few days - but probably all of them long before that.
If you're trying other herbs, let me know what the result was!